Usage Data - M&S - Applications
Recording Application M and S Metrics
You can record metrics data either :
Experience indicates that the extent of use of an Application will impact the effort and cost to maintain and support the application. These Usage Attributes assist in profiling applications and explaining variances in support efficiency.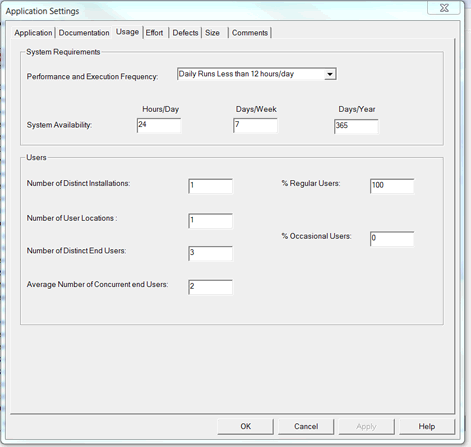 Execution Frequency - This is the operational regime of the software product. The expectation is that a high performance and execution frequency will have higher maintenance costs
System Availability - This is the required availability of the system i.e. is it required for 7 hours/day 6 days of the week or 24hrs for 7 days of the week.
Data collected about the extent of Usage of the application for the following classifications:
Distinct Installations - Number of distinct installations for which the maintenance and support effort is required. A 'distinct installation' is an individual installation of the complete software system.
User Locations - Number of user locations is a simple count of the number of geographically separate locations for which support is provided.
Distinct End Users - Number of distinct end users is those having access to the system, regardless of whether they use the system regularly or occasionally.
Concurrent Users - Number of concurrent end users is the number of users on-line at the same time (applies to single distinct installation). This data is held as a maximum and average number.