Overview of SCOPE 4.0 Features
Published October 2011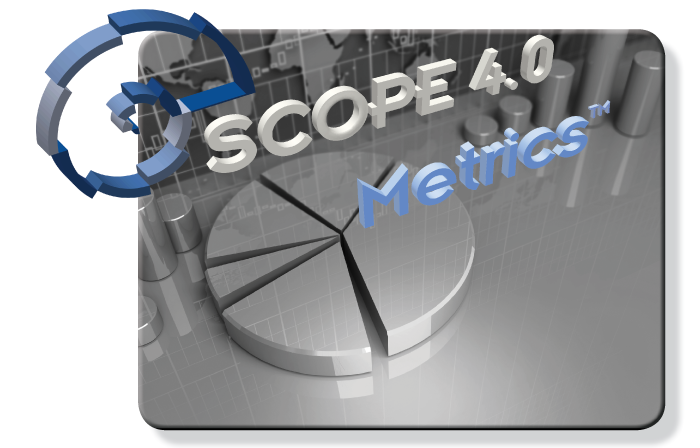 1. SCOPE Metrics®
SCOPE Metrics® is delivered with SCOPE Professional 4.0® and SCOPE Corporate 4.0®. It can also be purchased separately as a standalone metrics module and used to record data for size, effort, defects, and environment attributes; for all your applications and projects. The data fields are compliant with the collection standards set by the International Software Benchmarking Standards Group (ISBSG) for Development and Enhancement (D&E) and Maintenance and Support (M&S) metrics. You can selectively assign Projects and/or Applications to your customised Benchmarking periods for comparative performance reporting and trends analysis. The standalone module is ideal for organisations that need to report productivity and quality metrics based on functional size but do not need the full function point counting repository capability of SCOPE. At the press of a button you can email your selected D&E projects and M&S applications data submission to ISBSGs for their repository.
2. IT Performance Reporting
SCOPE provides full online and print reporting of productivity, quality and size metrics, both as tabular data and interactive pivot charts. Select to report by Work Package (Count Session), Project, Release, Application and/or Period. Customise the in built reports or add your own to the report template and interactively include and exclude displayed data from your graphs.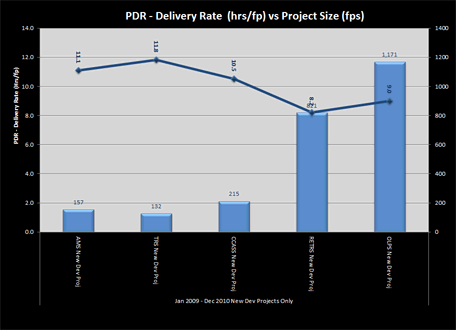 3. Web Enabled Business Analytics Portal for Industry Benchmarking

SCOPE CONNECT® subscribers can utilise the latest technologies and frameworks of the semantic web to identify, integrate, query and visualise their metrics data. SCOPE CONNECT portal provides drill down reporting and dynamic filtering of the ISBSG database to enable you to 'slice and dice' your own metrics data to benchmark against relevant Industry projects.
4. Apply 'numerical quantifiers' to SCOPE Function Point Values
SCOPE 4.0 has customisable 'numeric' attributes that can be linked to the Process and Data tree. Either use the inbuilt Numeric Attribute Templates provided, or create your own Numeric Categories. For example you can create new or customise existing numerical attributes by setting up:
Different Project Delivery Rates (PDR- hours/fp) for different functional areas and SCOPE will calculate the effort hours to deliver the linked functionality
Earned Value reporting by assigning 'percentage complete' to project functionality and SCOPE will calculate the 'earned value' function points for management reporting
NESMA Enhancement Impact Factors and calculate the NESMA function points or set up your own customised impact factors.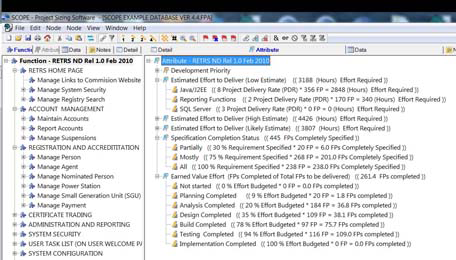 5. New User Interface
SCOPE has modernised its user interface:
Industry Windows 7 standard icons replace control buttons for all basic functions
Additional shortcuts for Application List, Project List and Benchmark Metrics screens
All screens enable basic functions (e.g. Save, Search, Move up /down, Copy/Paste)
Benchmark Metrics Module enables multi-select of Tree nodes for all operations
Hierarchy screens have Zoom In/Out for customised visibility
6. Other Features
Snapshot and Export whole Applications with their all Releases and Counts for import into to a new or existing database
Cut and paste nodes and change tree sequence position of any node on the Applications List, Project List or Benchmark Metrics trees using arrow icons to move nodes up or down
Assign Enhancement Types from either LHS or RHS tree
Optimised speed for SCOPE functions. Complex functions (import and convert database) now have a status bar to report progress