The Role of the Scope Manager in Project Governance
The role of Project Governance is to balance the risk of the organisation's investment against the opportunities and benefits that the outcomes will provide the business. It addresses the risks to ensure that the software provides value to the organisation and that the risks are properly mitigated.
For IT projects it is about providing the client with the capability to monitor the project status and control the risk of the project not delivering the business value they require within the time and budget available. Project governance is about understanding the business opportunities that the project can deliver, but also appreciating the consequences of failure and putting in place strategies to minimise the risk and optimise the investment so that business goals are achieved.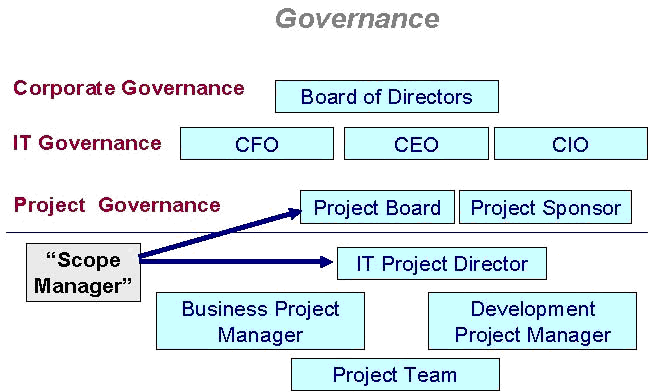 The Scope Manager provides metrics based project governance. We have found this approach to be very successful in objectively quantifying key project attributes to enable informed decision making with respect to project estimates and project risk. The Scope Manager is typically a metrics specialist who has excellent skills in business analysis, project estimation and functional size measurement. They need to be independent of the project team and not be connected to either the IT developers or the business client. They have to be able to report the status of the project objectively without bias, to a management level that has the authority to proceed, change direction or cancel the project.
The Scope Manager provides a key role in that their reports can provide early warning of project failure. In the past it was often not until major project milestones were missed that senior management had an indication that their investment was at risk. The following sections describe the role of the Scope Manager over the life cycle of the project and how they use metrics as a basis for their recommendations.